1. Product introduction
PCW series A/C cleaning pump is designed according to the feature of domestic air conditioner and refrigerant equipment.
The inner pump adopts with DC permanent magnet motor.
This product has the good performance of light weight, high pressure, reliable and self-priming.
The pump has automatic cut-off with the pressure control and all accessories place in one bag, easy to carry.
| | |
| --- | --- |
| Model | PCW-4M2 |
| Voltage | 220V 50/60Hz or 100-120V 50/60Hz |
| Power | 80W |
| Flow Rate | 4L/min |
| Working Pressure | 0.7-1.0 Mpa |
| Weight | 4Kg |
2. Caution
2.1 Don't run the pump continuous more than 30 minutes. pls run again after 15minutes to avoid long time continuous running to reduce the machine life.
2.2 To reduce the risk of fire and electric shock,avoid the use of damage of power cable.
2.3 To reduce the risk of corrosion pump,avoid the use of water with detergent.
2.4 Please ensure you are standing in a stable position. Hold the manual spray gun and the outlet pipe as tightly as possible.
2.5 Don't discharge the filter from inlet pipe to prevent the impurities blocking,If necessary,clean the inlet water filter.
2.6 Nozzle spray adjustment will effect the start of high pressure control switch,please ensure the pump works normally.
2.7 Don't spray to other people, animals, the machine itself or electrical equipment.
3. Dimension and Accessories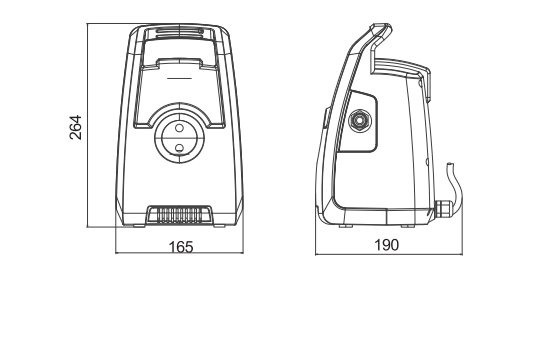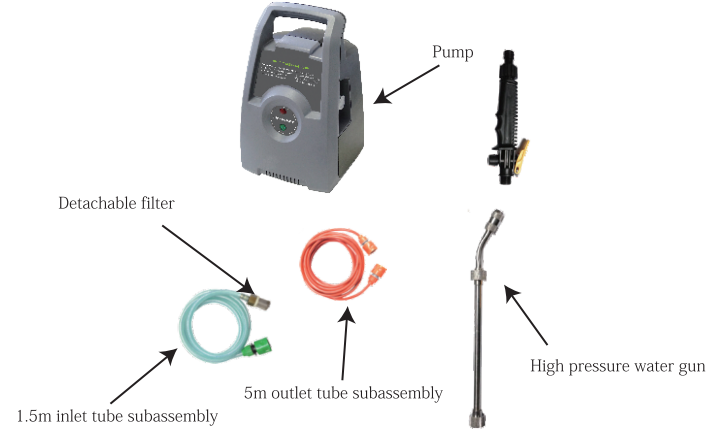 4. Operating instruction
1. Check before operating(Only qualified service personal should operate this unit,may require the user to be licensed for some countries)
Make sure the product and all accessories under good condition. No impurities blocking in the filter and manual spray gun.
Make sure with the correct voltage as the same as nameplate mentioned.
2. Connect the quick-connector of inlet pipe and outlet pipe to the pump, make sure to the correct position and fastness.("IN"-Inlet"OUT"--Outlet)

3. It should discharge the air for first use. the pump can be started to work after connecting the spray gun while switch on few second.
4. By tuming the nozzle you can vary the spray from a narrow jet to a fan jet.But notice this turning is limited distance. there is risk that the nozzle breaks away from the spray gun if big turning.
5. Check if the inlet pipe with the filter, if all connectors with O-ring inside, then tighten with a spanner if there is a leakage.
6. The green light will be shut off while loosen the handle of gun.(Redlight-Power on,Green light--work on)
7. When cleaning the indoor unit, please press the switch to "-" ,usingthe low-pressure to adjust the water under mist spray water mode. when cleaning the outdoor unit,please press the switch to "=", using the high-pressure to adjust the water under straight spray water mode.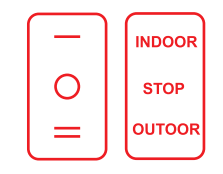 8. Take away the outlet pipe while the pressure gauge returmed to"Zero"position.otherwise high pressure water will spray to workplace. That's dangerous.

9. Disconnect all device,secure without water inside,then put back to the storage box.
5. Company Information
Long Term Elec. Co., Ltd established in 2003 in Ningbo,which is a leading company specialized in HVAC and electrical area, and also the agent of many Chinese factories. With years' experience, now Long Term can provide various of products with competitive price. We have built a stable factory which clearly knows the importance of quality. The products we supply are well structured, various styles, great appearance and high quality.
Besides the success in HVAC industry and low voltage field, Long Term opened a new market for precision machining.
In 2017, Ningbo Long Term Control Co.,Ltd is established. We adopt advanced production technology and high accurate machine for production. Our factory owns dozens of huge and middle CNC horizontal machining centers made by Japan Kuraki, our mean products are Water Heater Thermostat, Snap Action Thermostat ,Defrost Thermostat and Sequencer with UL Certificate. Meanwhile, we have professional team for inspection who are responsible for ensuring that all operations are conducted in line with ISO9001 standards. Welcome to send us drawings of the products you need.
We have achieved UL certificate for US market. UPC, NSF, ROSHS,etc certificate. We have enjoyed a high reputation among our customers owing to the high quality, competitive prices, prompt delivery and excellent service. Our products are now exported to Europe,North America,South America,etc. We have sole agents in Indonesia, Argentina, Kuwait, etc.
In 2019, Long Term becomes the refrigerant exportation department of Juhua Group Corporation in Ningbo.
Adhering to the principles of "Quality ensures Our Survival", "Advanced Management Makes Us Develop", we hope to cooperate with all partners for mutual success.Should you favor us with inquiries for your specific requirements, please feel free to contact us and we are in a position to supply you with first class goods at competitive prices. Your earliest attention will be highly appreciated!